Eco-friendly
We are committed to supporting all environmental issues and are always looking for opportunities to further increase our support for the benefit of all.
Click here for a Youtube talk on the hall's "Green Journey".
Build
Built in 2002 to the current energy efficiency standards of loft insulation, cavity wall insulation, double glazed windows and low energy light bulbs.
Solar Panels
A 10kw Solar Panel system was installed in June 2012 with a grant from the opencast coal mine community fund. For more information on the technical aspects of the system, and performance data, see the files at the bottom of this page.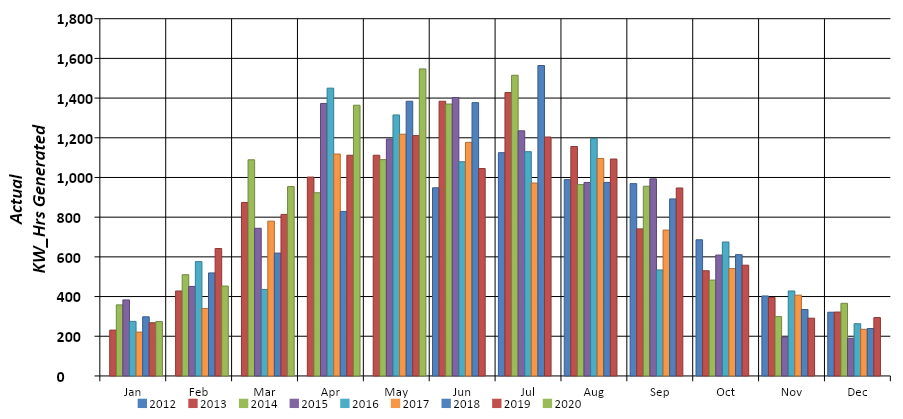 Lights
Light bulbs were upgraded to LED bulbs in April 2017 with a grant from Western Power.
Battery Storage
In June 2019 we believe we are the first village hall in Shropshire to install a 3 phase modular battery system.
Heat Pumps
In 2020 we committed to replace our original oil boiler with a modern low carbon alternative. After considering all the available technologies and taking advice from a consultant we decided in 2021 to go for an air source heat pump solution.
For the main hall we chose ceiling mounted air to air heat pumps which provide heating in winter and cooling in the summer heatwaves. The original water filled radiators have been removed.
For the committee room, lobby, bar and toilets we chose an air to water heat pump which pumps hot water round the original pipe work but with larger radiators replacing the originals.
Heat pumps use electric power to generate heat but with an efficiency gain so that one kW of electricity will produce around 3kW of heat.
Thanks to our consultant Intelligent Energy of Bishops Castle and our installers SCS Shrewsbury.
And thanks to our funders Marches Renewable Energy (EU money!), Telford and Wrekin Climate Action Fund, Shropshire and Telford Community Energy and Little Wenlock Parish Council for financial contributions to make this all possible.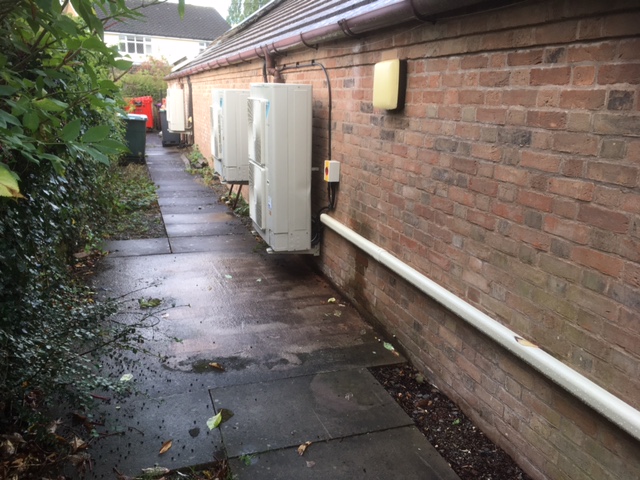 Future Plans
A car charging point.
Recycling facilities
Purple Top bin for glass and plastic bottles, plastic cartons and cans
Red Boxes for clean cardboard.
Our paper bank on the Village Hall car park has now been removed. This decision has been made due to a dramatic price drop in the price received for the paper.
The committee would like to thank everyone who has supported our paper recycling that has been going for 24 years and has collected over 150 tonnes, raising over £5000 used to fund both the hall and playing field.

For more information on the eco installations please contact Howard Betts 01952 505547,